Martin Barre - Celebrating 50 Years of Jethro Tull

Showcasing Tull's Music History With Original Tull Band Members: Martin Barre/Clive Bunker/Dee Palmer and special guests as they support "50 years of Tull" album release. (Ian Anderson will not be on this tour!)

Reduced priced tickets Thursday & Friday - no taxes no fees! 8pm Thursday-Saturday, 6pm Sunday.


Event Showtimes:
Ages: All Ages
Thursday pricing: $43-House/$53-Front of House/$65-Cabaret Tables
Friday pricing: $49 - House/$59-Front of House/$70-Cabaret Tables
Saturday & Sunday pricing: $53 - House/$65 - Front of House/$75 - Cabaret Tables
NO TAXES OR SERVICE FEES!
Tickets increase by $5 half hour before show time.
ALL SALES FINAL - NO REFUNDS!  Exchanges may be made for the same show different date only + $5 per ticket exchange fee and any difference in price.  Must give 24 hours notice of original ticket date.  See box office for more info.
Artist page: matinbarre.com
Wiki page: https://en.wikipedia.org/wiki/Jethro_Tull_%28band%29
Videos: "Aqualung" Martin Barre Band Live 2017 ; "Locomotive Breath" at Daryl's House 2017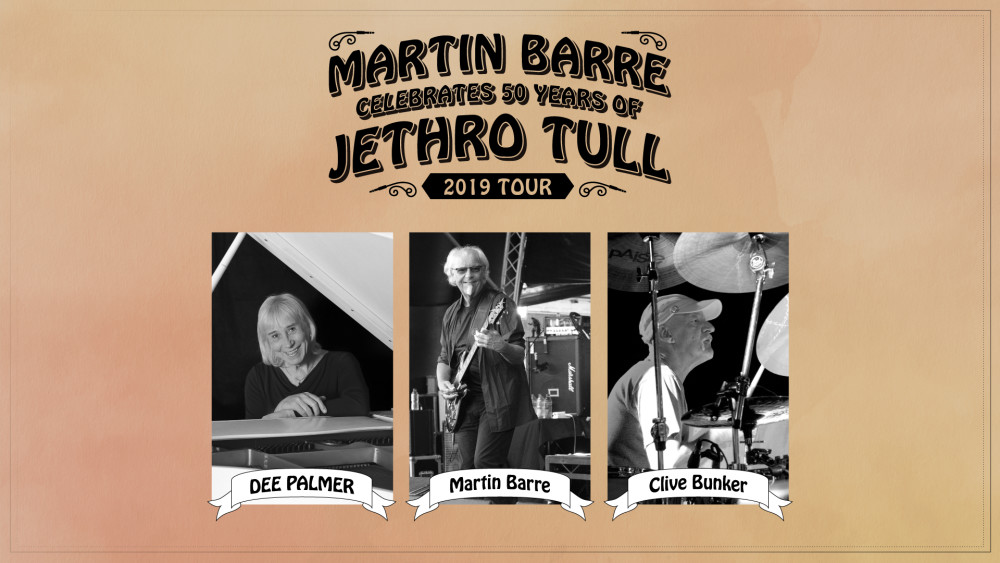 Martin Barre has been the guitarist of Jethro Tull for 43 years, his sound and playing having been a major factor in their success. Album sales have exceeded 60 million units and they continue to be played worldwide, representing an important part of classic rock history.
Martin's guitar playing has earned him a high level of respect and recognition; he was voted 25th best solo ever in the USA and 20th best solo ever in the UK for his playing on 'Aqualung'. His playing on the album 'Crest of a Knave' earned him a Grammy award in 1988.
As well as numerous Jethro Tull albums, Martin has worked with many other artists including Paul McCartney, Phil Collins, Gary Moore, Jo Bonamassa and Chris Thompson and has shared a stage with such legends as Hendrix, Fleetwood Mac, Pink Floyd and Led Zeppelin.
As Jethro Tull are taking a long break from touring, Martin has put together a band to play the "classic" music from the Tull catalogue. His band is a total commitment to give the Tull fans and a broader audience the chance to hear tracks not performed for many years. Performing at the Egyptian with Martin Barre ('68-'11) are two past Jethro Tull members, Clive Bunker (drums, '67-'71) and Dee Palmer (keyboards '77-'79).